2014
SHOTOKAN KARATE-DO INTERNATIONAL
SPRING TRAINING CAMP
<![if !supportEmptyParas]> <![endif]>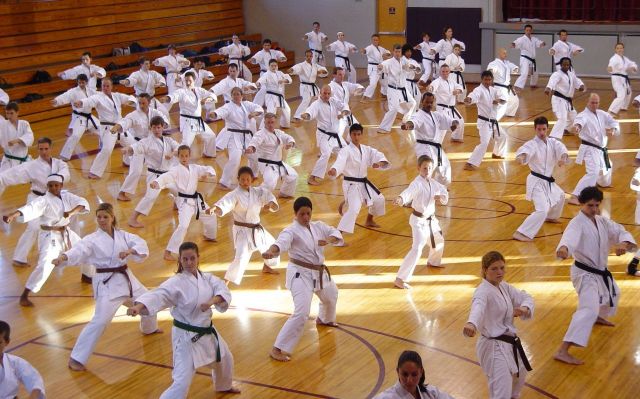 Photo by Peggy Gilbart
<![if !supportEmptyParas]> <![endif]>
This year's UConn Spring Training Camp will be held the weekend of April 11-13 at the University of Connecticut in Storrs. Sensei Masataka Mori, 9th dan, Chief instructor of Shotokan Karate-Do International will be teaching Sat and Sun classes. This camp is open to all who are interested in traditional Shotokan karate.
Below is the tentative training and meals schedule*:
---
Friday April 11

Practice

7:00 - 8:30 PM

Saturday April 12

Practice
Practice
Cookout & Party

9:30 - 11:00 AM
1:30 - 3:00 PM
4:00 - 10:00 PM

Sunday April 13

Practice
Cookout

8:30 - 10:30 AM
11:00 AM - ?
<![if !supportEmptyParas]> <![endif]>
*All practices held at Hawley Armory gymnasium. Continental breakfast will be available Sat & Sun morning at the dojo.
---
Participation fees will be on a sliding scale as follows:
<![if !supportEmptyParas]> <![endif]>
Camp Rates:

Black Belts

Brown Belts

Green Belts

White Belts
& under 18

Entire Camp

$95

$85

$65

$55

Per Class

$40

$35

$25

$20
<![if !supportEmptyParas]> <![endif]>
Prices include training fee plus one meal per class (except for Friday night when you'll be on your own for dinner). Please e-mail or call in the names of people attending by Monday April 7. There will be a $5 late charge for anyone not registered by this time.
If you wish to stay at a motel, the best option is the Best Western Regent Inn (phone (860) 423-8451, about 6 mi. south of campus on Rt. 195). Please make reservations early to be sure you get a room! Another option is the Comfort Inn, 425 Hartford Turnpike (Rt. 30), Vernon CT (phone (860) 871-2432. Directions from I-84 west: Exit 65, bear right at end of ramp onto Rt 30 east. About 1/2 mile on left. 15 miles from campus. 20-25min drive).
---
If you have questions or want to register, please contact:
Bob Jacobs
(860) 429-7067 (home)
(860) 295-9524 (work)
E-mail: uconnjka@charter.net
---
Back to the UConn Karate Club Home Page